You will find that the Golf Course Map is uploaded on the screen and it will show you all the tees with flag marks over both the front and back 9. You can Zoom in and out of the map as per your choice. Customers can use their mobile app to
access
the On Demand service. Once the customer places an order, the
On Demand
tab will flash on the terminal, which means that there is a new order in this window.
Pick Up (3): Golfers can choose to pick up their items from the nearest pickup point. (For ex. If the golfer is at hole 9 and would like to pick up his order near their Club House, they can make the order from the mobile app and select to pick it up there. You will find the terminal will highlight the On Demand button. The details of the order location will be in the pickup window. On STATUS, you can click on an Accept button to acknowledge receipt of an order. When an order is ready for pickup you can click on Ready. The order will be kept ready for the golfer to pick up at the predefined location. This location information will also be available on the customers' mobile app map. Once the customer has picked up the order, click on Pick Up.

Delivery (4): You can select the Delivery option On/Off by clicking on the toggle bar. If the delivery option is active and the customer places an order for delivery a red location dot will be shown on the map in the window. The order details will be shown in the Delivery option. Click on accept to acknowledge the order. Once the item is ready the delivery person can pick up the order and head to the customer's delivery location. Click on Delivered to complete the order.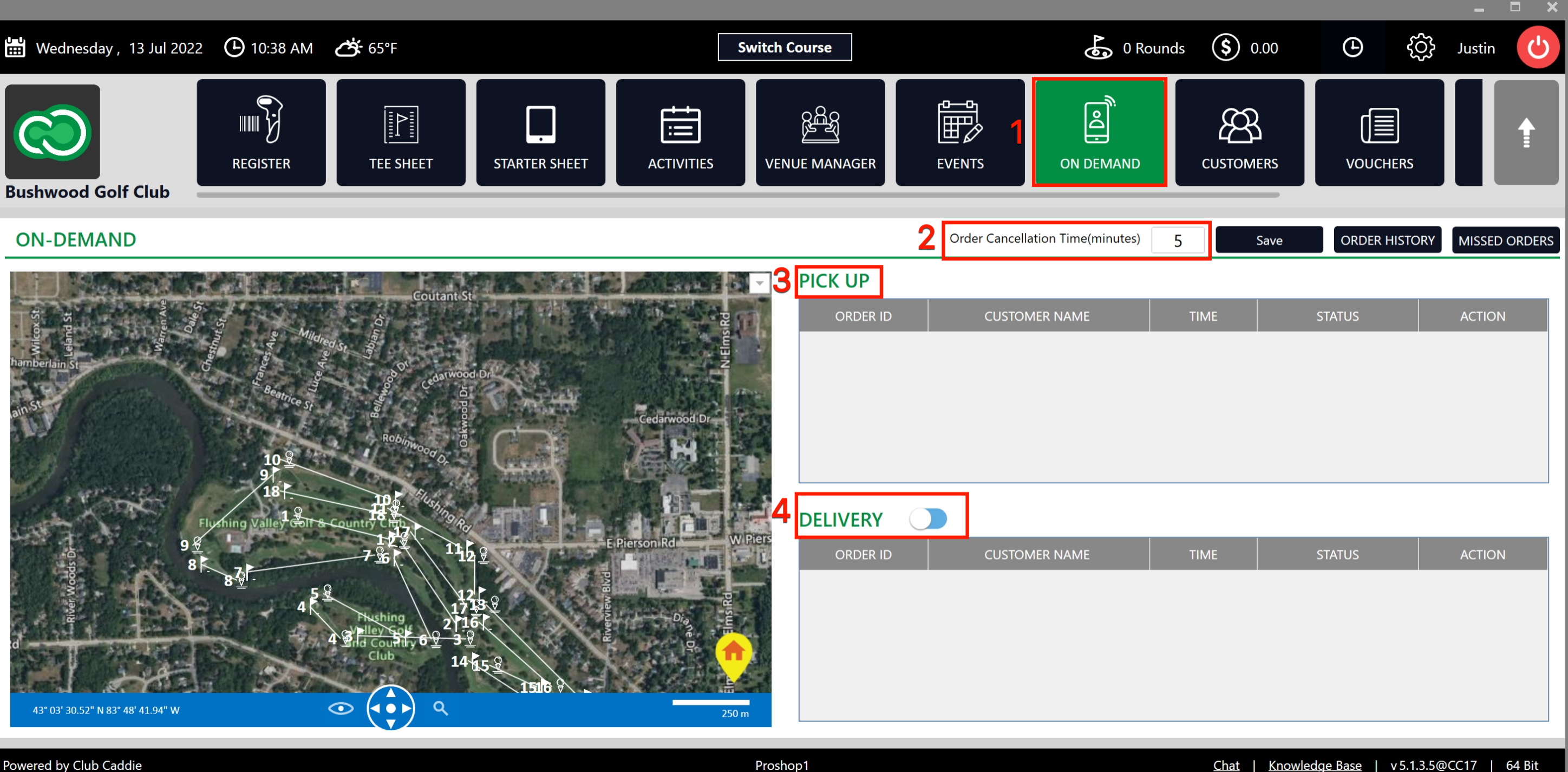 Order History: You can search between a range of calendar dates (1) or use the drop-down to select pre-defined ranges (2) and click on search (3) to find the order history from On Demand. The search results will show you the order details from On Demand, which the customer made from their mobile app. These search instructions will also work for missed orders.