Making a one-time payment
Article Contents:

The below steps describe how to make a one-time payment to your membership account such as paying off an invoice, making a deposit, or storing credit on your account. Either a credit/debit card or ACH account can be used to make a one-time payment.
Step-By-Step:



Step 1:
On the left-hand navigation menu select "View / Pay Invoice" (1). Along the top of the screen, you'll have your current balance displayed (2) as well as a full list of your recently issued invoices (3).

Step 2:
To submit a payment, you'll need to input the payment amount you wish to add to your account (4). You'll then select the "Add to Account" button (5).

Example: In the above image, I have a current balance of $522 (2) and the invoice highlighted (3) has an amount due of $420. I am choosing to pay my balance down to $0 by submitting the full $522 amount.

Step 3:
On the next screen you'll find the payment amount you input above (2), choosing the payment method (3), inputting the card or ACH details in (4), and finally selecting the "Process Payment" button to finalize the payment against your account.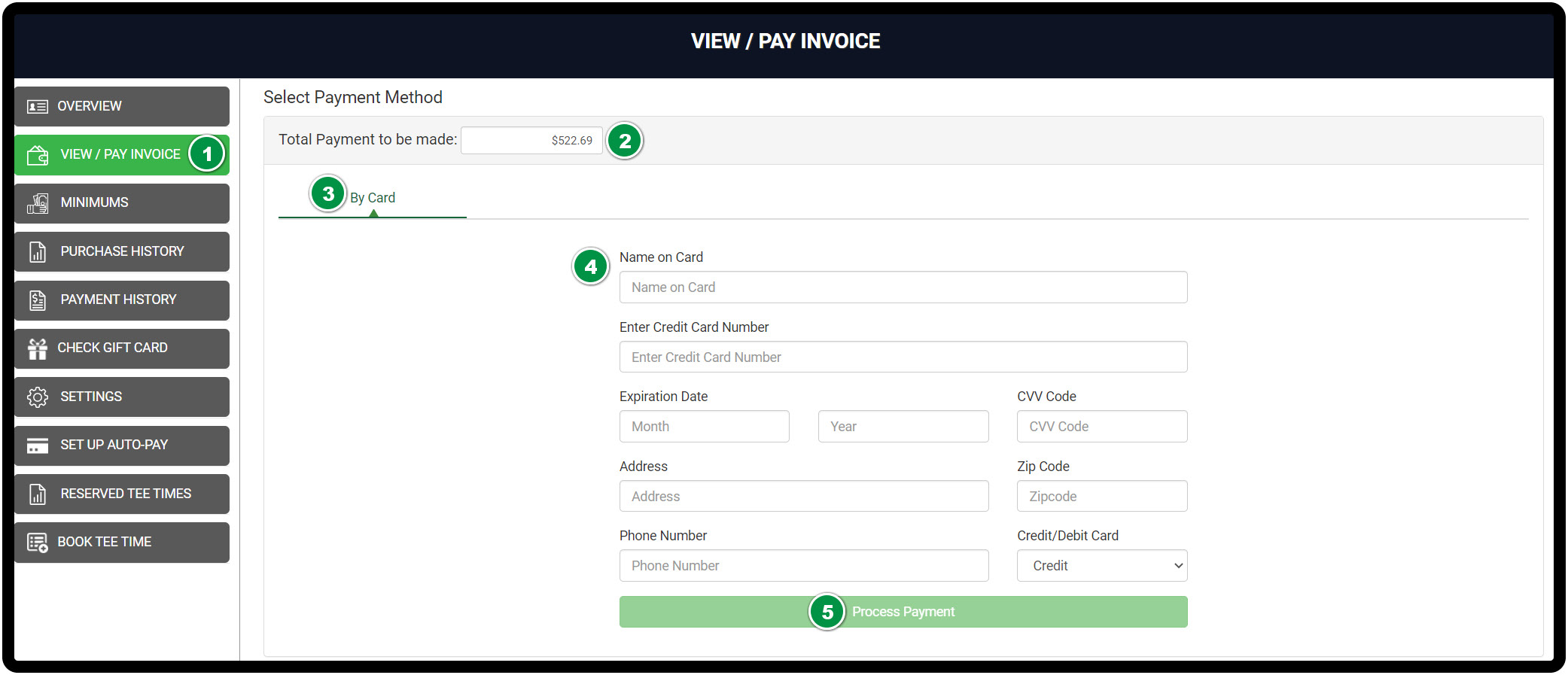 Related Articles

Registering for the member portal

Welcome to your new membership portal! You can use this new hub to keep up-to-date on club information, edit your membership details, view and manage purchases and payments, book tee times & reservations, and much more. This handy guide helps walk ...

Notifying Your Members of the Membership Web Portal

Article Contents: We recommend that facilities provide their member base with an informational email that guides members through a step-by-step process to gain access to your facility's membership portal. There is exciting functionality that this ...

Setting up auto-pay

Article Contents: The below steps will guide you through setting up auto-payment on your membership account. Saving a credit card or ACH account to your membership profile allows you to settle outstanding invoices easily as well as giving you the ...

Booking a Tee Time through the Member Portal

Article Contents This article contains step-by-step instructions on how to book a tee time through the membership portal. Step-By-Step Step 1: A list of options is available within the member portal along the left-hand menu. Select BOOK TEE TIME and ...

KDS - Add item with preparation instruction, item modifiers, combo item.

Step-By-Step Step 1: After adding the items from the register to a tab, click on send to write specific instructions for KDS system. Send to KDS with instructions. Write your instructions here. Step 2: You can also select the choice of modifiers ...